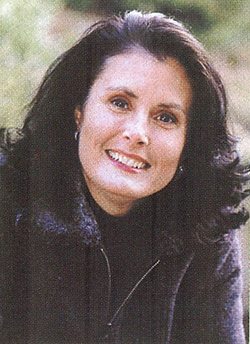 Michele Torrey, '88, was having trouble finding books for her three teen-age sons. She decided to fix that problem by writing one herself.
While thumbing through an encyclopedia one day, Torrey, ran across an item about Ferdinand Magellan's circumnavigation of the globe. That small entry immediately stimulated her curiosity. So she began to research Magellan, learning everything she could about that pathfinding voyage.
The result was her fifth book, To the Edge of the World, which was published this year by Random House.
"There was a dearth of literature" for middle teen-agers. So she wrote the book for them. The year is 1519, and 14-year-old Mateo finds himself an orphan after the plague kills his parents. With nothing but a few possessions, he wanders the countryside hungry and homeless until he comes across an inn. There, he meets a man who offers him a spot on a ship sailing for the Spice Islands. A few days later, he is a part of the voyage that left Spain with 277 men and returned with only 18.
The meticulous research that went into the book is a product of the Auburn resident's scientific background. She graduated from the UW with a degree in microbiology and worked as a technician in several labs before deciding in 1991 that she wanted to stay home with her three sons.
That gave her the time to pursue another love: writing. As a fifth-grader, she was encouraged by her teacher to keep up with the craft. She carried that lesson with her through college, taking creative writing classes along the science classes she needed for her degree.
Torrey feels that writing and science are closely intertwined. Almost all of the characters in To the Edge of the World are based on real people on the voyage. Mateo and his parents are the only fictional characters in the book. The rest—even Mateo's best friend, Rodrigo—are captured somewhere in history. The book also wields maritime jargon effortlessly and uses the Spanish version of Magellan's name, "Magalenas."
By combining her love of science and writing, Torrey says she has "found a creative outlet that brings the wonders of the world into the hands of young readers."