After most people complete their undergraduate degree, they either take a break or jump into a job. Few, like Brianna Craft, set out to save the world.
It started when she was a freshman sitting in an environmental studies class in 2006, Craft was struck with dismay when Professor Richard Gammon described the harm climate change was having on people. She captures the moment in her new book, "Everything That Rises, A Climate Change Memoir."
"It was all just so painfully simple," she writes. The lesson highlighted the United States' role producing more greenhouse gasses than any other nation. Then it turned to the impacts on human health like thermal stress, cardiorespiratory disorders, vector-borne diseases and contaminated drinking water. Craft hadn't learned about the crisis before. She couldn't understand why the problems of climate change weren't a focus in her high school or part of the American culture she had so far experienced. She wanted to know more.
Three years later, Craft left the country on a Bonderman Fellowship, which gives students the funding and opportunity to create their own itinerary and explore the world. It was a big deal for the Kelso High School valedictorian. "I had learned about climate change in my college classroom, and I wanted to see what it meant for real people," she says.
She started in Mexico City and worked her way through Central and South America to Patagonia. Then she boarded a plane and crossed the Pacific. Everyone she encountered knew about climate change. Farmers in India were working with drought-resistant crops. Teens in the South Pacific were climate leaders in their communities. Because of new weather-related farming challenges, more people everywhere were moving into cities.
"I was struck by how everybody knew about climate change and had already altered their lives so much," she says. Coming home to find that the reality of climate change was still a subject of debate was frustrating, to say the least, she says.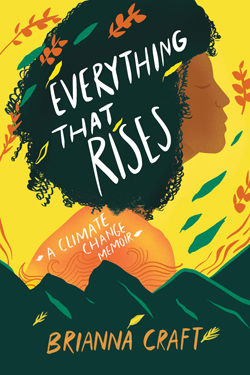 After graduation, Craft spent a year in AmeriCorps focusing on protecting and restoring the environment. "That helped me figure out that my future was not in doing science," she says. Instead, she wanted to work with people and policy.
She enrolled at Brown University to pursue a master's degree in environmental studies. That program led to an opportunity to attend the U.N. climate negotiations as a member of the Republic of The Gambia delegation. That, in turn, prepared her for her current role as a senior researcher at the London-based International Institute for Environment and Development. Her focus at the independent think tank is on the Least Developed Countries Group, ensuring that the lowest contributors to greenhouse gasses and those most affected by climate change have a voice in international climate negotiations.
For five years, Craft attended and supported climate conferences around the world, culminating in the signing of the Paris Agreement in 2015. And she was devastated when, in 2019, President Trump announced the U.S. would exit from the climate accords. "This was the first truly universal, legally binding climate agreement," she says, noting the U.S. had been a leader in the effort. "It took years and years of work." (The U.S. rejoined the agreement in 2021.)
"I needed to tell this story to my fellow Americans," Craft says. "I wanted them to care about the work I did in the climate negotiations, and why we pushed so hard to form this agreement." That led her to write "Everything That Rises," which was released by Lawrence Hill Books this spring.
"I really like memoirs in general," she says. "I've always loved reading people's stories, and I've read a lot of books on climate change." The latter can be dry, she says. Craft took inspiration from novelist Barbara Kingsolver, who writes about climate change as well as women's experience, and books like "The Right to Be Cold," by Sheila Watt-Cloutier, an Indigenous woman who advocates for the climate, Indigenous culture and human rights.
Craft brings the perspective of an African American woman from a rural Northwest community. She weaves together several storylines—including her difficult childhood with an abusive parent, her self-discovery in college and her work to help forge climate agreements and ensure that even the smallest emerging countries have a voice. By making it a memoir, she says, she leverages her family story "to draw comparisons between the way we treat each other at home and the way we treat the Earth."