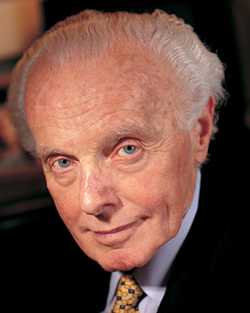 Tom Lantos, '49, '50, the only Holocaust survivor to serve as a member of Congress, died Feb. 11.
He was 80.
A Democrat from San Mateo, Calif., Lantos served for almost 28 years in the U.S. House of Representatives and was chair of the House Foreign Affairs Committee when he died.
A strong advocate of human rights, Lantos was once arrested outside the Sudanese Embassy in Washington, D.C., during a protest over genocide in Darfur. As chair of the House committee, he championed a resolution declaring Turkey's mass killings of Armenians during World War I an act of genocide. The measure passed his committee but never came to a vote on the House floor.
His political outlook was based on his personal experiences as a Jew in his native Hungary. During World War II he escaped from Nazi camps twice, the second time finding refuge in a Budapest apartment building rented by Swedish diplomat Raoul Wallenberg. "It was a three-bedroom apartment designed for one family," Lantos later recalled, "and there must have been 50 to 60 people crowded into it." Wallenberg put Lantos to work helping out in an elaborate anti-Nazi underground network.
Lantos survived, but the rest of his family, including his mother, perished in the death camps. After the war, he studied economics at the University of Budapest. In 1947, he was awarded a Hillel Foundation scholarship to study at the University of Washington.
"Here I was, coming out of the Holocaust, starvation, poverty, persecution, the worst horror of mankind, and I had landed in this bucolic setting. People were friendly and wonderful, there was all the food I could eat. I couldn't believe my eyes," he said in an interview for a September 1999 Columns article. He joined the Sigma Alpha Mu fraternity, had a part-time job as the "sandwich man" on sorority row and tutored Latin, German, French and Italian. "It was the happiest time of my life," he said.
He later earned a Ph.D. in international economics at Cal-Berkeley and began a 30-year career as an economics professor at San Francisco State University. Before he left Hungary, he met a childhood friend, Annette Tillemann, who also managed to survive the Holocaust. They married in 1950.
Lantos was one of five people featured in the 1998 Academy Award-winning documentary The Last Days. The movie was executive-produced by Steven Spielberg and his Survivors of the Shoah Visual History Foundation, a nonprofit organization dedicated to videotaping and archiving interviews of Holocaust survivors the world over.
"It is only in the United States that a penniless survivor of the Holocaust and a fighter in the anti-Nazi underground could have received an education, raised a family and had the privilege of serving the last three decades of his life as a member of Congress," he said in a January statement when he announced that he would retire. "I will never be able to express fully my profoundly felt gratitude to this great country."