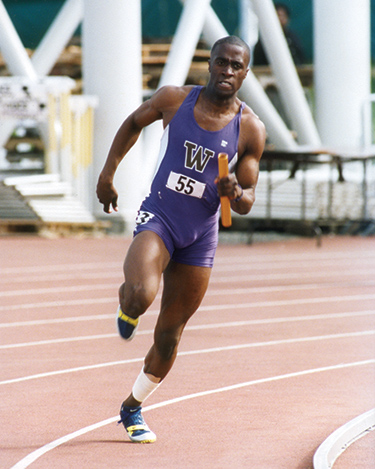 Track star Ja'Warren Hooker, '01, is running to Beijing.
Impossible? Well, he has the proper credentials.
As a Husky, he astounded spectators, sprinting 100 meters in 10.18 seconds and 400 meters in 44.78 seconds, the fifth fastest run in the world at that time. In 2000, he earned a spot alongside Michael Johnson and Antonio Pettigrew on the U.S. Olympic 1600-meter relay team in Sydney, but was benched on the day of the race.
Now 27, around the age when most runners peak, Washington's fastest human is training to qualify again for the U.S. team and show that he is one of the world's fastest at the 2008 Olympics in Beijing.
Hooker came to UW in 1997 on a football scholarship as Ellensburg High School's all-time rushing leader, carrying for 3,589 yards and 48 touchdowns. His speed was unquestionable from his first touch of the ball as a Husky; he scored on an 89-yard kickoff return against Arizona.
While he was playing football, Hooker was hardly unknown in the world of track and field. In 1997, he was prep All-American, hailed as the nation's top high school 100-meter man with a 10.27-second finish that set Washington's state record.
In his freshman year as a Husky, he was named the Pacific-10 Conference Athlete of the Year for men in track and field, a title no Husky had earned since the award was introduced in 1976.
In 1999, Warren decided to leave football and concentrate on track, having suffered a variety of leg and shoulder injuries in his two years on the team.
His collegiate track career brought a full schedule of competitions and successes. As he graduated, with growing comparisons to track legend Michael Johnson, Hooker decided it was time to move to California "to leave [his] comfort zone" and get a little wiser.
"When I was at UW, I ran four races every weekend," he says. "Races add years onto your life and your muscles."
He says he realized the importance of being mindful not only of one's physical health, but one's mental health as well. "Being happy and being comfortable really help you to succeed. I didn't realize that until I moved away," says Hooker, who returned to Washington earlier this year.
Hooker says he hopes through his training to run 100 meters in 10 seconds flat. But injuries and changing coaches call into question whether Hooker will be able to perform at that next level coaches and fans have anxiously awaited.
At the Harry Jerome Track Invitational in May 2004, the toll on Hooker's body was clear. He finished his 400-meter race with a time of 47.65, taking seventh place.
But Hooker is confident he can rise to the occasion. He can now be found back on campus training at UW's indoor track facility, his eyes soft, calm and determined. "I haven't even thought about failing. I'm close to running my personal [best times] in track."
"Track is a 24/7 job," he says. "But it's the type of sacrifice everyone makes. And when my time in track is done, I'll move on to the next obstacle in life." Trading track shoes for football cleats is one possibility, says Hooker. "I've thought about the NFL as an option."