UW experts sharpen ski maker's edge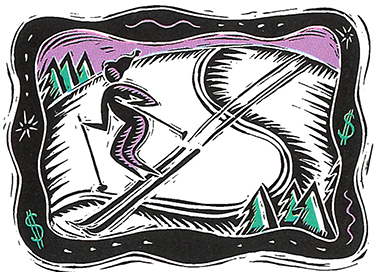 Are U.S. downhill ski makers headed for a fall, or can the latest technology keep them schussing down the ski run? UW engineers say they can help the last major U.S. manufacturer of downhill skis—Washington-based K2 Corp.—keep its competitive edge by putting together its ski bottoms more precisely.
In a two-year project funded by the Washington Technical Center and K2, UW engineering faculty, graduate students and undergrads will refine the automated process of manufacturing the bottom of the ski. The bottom is made of a polyethylene base with specially shaped steel edges glued to each side. A more precise process will reduce imperfections that can lead to costly production delays and product rejections.
"We want to help ensure that this process is as flexible as possible, improving K2's ability to make relatively fast design changes in response to new market trends," says Mechanical Engineering Professor Jens Jorgensen.
K2 is the sixth largest ski maker in the world with about 8 percent of the downhill market. The company hopes to capture up to 12 percent. "Having a reliable, stable process for manufacturing ski base assemblies … definitely will help," says Anthony DeRocco, '87, the K2 process engineering manager.