Traditionally, commencement is the time when the UW and its alumni association announce the winners of the annual teaching and public service awards. Once again there are 10 exceptional people who have contributed greatly to the University's teaching and public service missions. The 1990 winners of the Distinguished Teaching Award are Forest Resources Professor Reinhard Stettler, Epidemiology Professor Thomas Koepsell, Geography Associate Professor David C. Hodge and Technical Communication Assistant Professor Jan Spyridakis. Winners of the Excellence in Teaching Award are Music TA Denise Cooney and Education TA Janet McDaniel. Other winners include Law Professor Roy Prosterman, Outstanding Public Service Award; Robert and Sally Behnke, UWAA Recognition Award; and Tracy King, UWAA Distinguished Service Award. Brief profiles of the winners follow.
Distinguished Teaching Awards
Reinhard Stettler
It's a long way from the pine forests of Switzerland to the towering Douglas firs of the Pacific Northwest, but Reinhard Stettler has learned to love both wooded lands, and to impart that love to his students in the College of Forest Resources.
Born in 1929, Stettler was raised in Steckborn, on the shores of Lake Constance. He graduated from the Swiss Federal Institute of Technology in 1955 and spent three years in Canada before attending the University of California, Berkeley, where he received his Ph.D. in 1963. That same year he arrived at the UW, where he has taught courses such as Trees in Our Environment, Dendrology, Forest Biology and Forest Genetics over the past 27 years.
Stettler's specialty is genetics, a subject often shunned by students. "That's why it's important to have good slides or good stories, or both. You hit them with a broadside," he says.
The 1990 Distinguished Teaching Award winner's broadsides have had a great impact. "I have never had a better instructor for any subject. I hope I can be as effective in presenting material as Dr. Stettler is. Regarding content, I was never interested in trees. Now I am," says one student.
Stettler makes sure his students experience the forest directly through field trips and outdoor labs. "I do a lot in the field. I'm a great believer in first-hand observation."
But whether it is in the lecture hall or the laboratory, the love of the forest is not forgotten. The mark of a great teacher is to pass on his or her inspiration to the students. As one of his undergraduates com­mented, "Dr. Stettler displayed the rare quality of genuine love, not only for forestry, but for teaching forestry."
Thomas Koepsell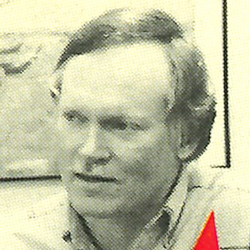 Dr. Thomas Koepsell straddles the divide between two departments: Epidemiology and Health Services. Despite the tugs and pulls from each unit, he achieves "a degree of excellence in not just one discipline, but while teaching regularly in two separate departments," notes Edward Perry, chair of Health Services.
Perhaps the reason is his dedication to his students. Many are on their way to becoming physicians; others plan careers as teachers and researchers in public health.
"I make it a policy of never saying no to students," Koepsell says. "Most of the time my door is open." In the classroom he tries to get to know each student as an individual. Koepsell says he likes to avoid straight lectures and instead makes his students "participants rather than a passive audience."
Born in 1946, Koepsell grew up in Kalamazoo, Mich. He earned his bachelor's degree from the University of Michigan in 1968, his M.D. from Harvard Medical School in 1972 and his master's of public health from the UW in 1979. He was a resident at the UW Medical Center in the early 1970s and spent several years as a researcher in Washington, D.C., before joining the UW faculty in 1979.
This 1990 Distinguished Teaching Award winner will not rest on his laurels. "He is not simply willing to let the course 'stand pat,' even in the face of positive student and peer reviews," notes Noel Weiss, chair of Epidemiology.
"There are always rough spots that I am probably the most conscious of," he says of his teaching. "I typically jot them down after a class." Revisions are necessary to keep up with the tide of research, he adds. "But constant improvement also keeps it interesting for the instructor."
David C. Hodge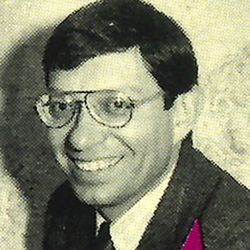 Walk into a geography class taught by David C. Hodge and you might hear two students debating over segregation patterns in housing, or whether the Seattle bus tunnel will benefit the average bus rider. "Hodge's classes routinely are peppered with current news clippings, polls of students about current issues and other devices aimed at helping students connect course material to larger social, economic and political processes," reports one former undergraduate.
"I try to get them to understand the issues behind all of this," says the 41-year-old associate professor and 1990 Distinguished Teaching Award winner.
But Hodge doesn't only teach subjects that appear on the nightly news. For 14 years he has taught Geography 426, a course on statistics and research methods often dreaded by students due to its rigorous nature. But many alumni cite that class as "the single most valuable course they took at the UW," reports one former student, because Hodge "allowed the students to see how the everyday world they live in is connected to the theoretical world of academic pursuits."
Born in southern Minnesota, Hodge got his bachelor's degree from Macalester College in 1970 and his master's and doctoral degrees from Penn State in 1973 and 1975 respectively. A college track star, he was named to the NCAA Division II All-American Track team in 1968 and 1969 for his records in the half-mile. He joined the UW in 1975.
Hodge says he has been interested in his field since he was an undergraduate. "Geography is a field that synthesizes and integrates. It explains how various elements came together in a particular place," Hodge says. "We need an understanding of how all these parts fit together."
Jan Spyridakis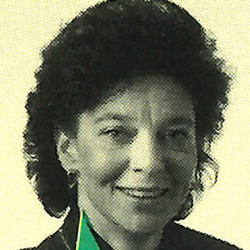 Jan Spyridakis had "no idea " there was a subject called technical communication when she got her bachelor's in English and a master's in teaching at the UW in the early 1970s. But after graduation, while she sold jewelry at the Pike Place Market, she also picked up occasional engineering editing jobs.
"I knew I didn't want to teach English, but I liked writing and editing," she recalls. Now an assistant professor in engineering's Department of Technical Communication, the 1990 teaching award winner admits, "I fell into it."
Which doesn't mean that Spyridakis lacks an affinity for her subject: teaching engineers and writers how to communicate complex technical information. "I don't find it dry at all. It is shaping something the way you want it to be taken."
Born in 1949, Spyridakis grew up in the Midwest and attended the University of Wisconsin before coming to the UW. Since beginning as a lecturer in 1978, she has taught 67 sections of eight different courses, which means 1,489 students in 12 years. Over that period she also earned her Ph.D. in Education Curriculum and Instruction from the UW College of Education.
Spyridakis is well-known for her interest in students. "She knows everyone by name …. And she's never too busy to talk with students after classes," notes one undergrad. Another revealed that Spyridakis offered to loan her business suit to a student traveling to the East Coast for an important interview.
No matter what her class size, Spyridakis peppers her students with questions. "I don't like straight lecturing," Spyridakis says. She insists that all participate. "I like to know that they are on my wavelength."
Outstanding Public Service Award
Roy Prosterman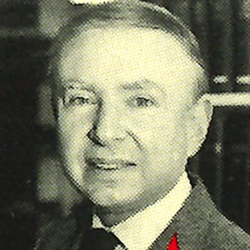 The crisis of "deep hunger and poverty on our planet" could end within a generation, in the expert view of Law Professor Roy L. Prosterman. The cost, he estimates, would be about what the nations of the world spend on armaments for six months.
Prosterman, recipient of the 1990 Outstanding Public Service Award, adds that to be effective, aid must address basic issues such as land reform, extension of credit to small farmers, job creation through small enterprise, programs to ensure child survival, and primary schooling "especially for girls."
Supported by individuals and foundations, and forgoing consulting fees, Prosterman has attacked land reform and hunger problems in 19 countries over two decades. In 1967, for example, Prosterman twice visited South Vietnam to design a land reform program. Over some official objections, his plan was implemented in the early 1970s. As far as Prosterman knows, it remains in place today under the Communist government. "The reform gave land to about one million families of tenant farmers," he says.
A member of the UW law faculty since 1965, Prosterman received his bachelor's degree from the University of Chicago in 1954. He graduated from Harvard Law School in 1958.
His interest in land reform, he says, goes back to his early days at the UW, where he teaches courses such as Legal Problems of Economic Development. Virtually all his non-UW time is devoted to the hunger issue.
UW Alumni Association Recognition Award
Robert & Sally Behnke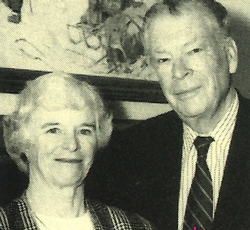 Robert J. Behnke and Sally Skinner Behnke, UW alumni whose combined service to the institution involves such widely diverse areas as the Henry Art Gallery, the School of Medicine and the Alumni Association, are recipients of the 1990 UW Alumni Association Recognition Award.
"We're surprised, honored and pleased," says Sally Behnke, a 1944 graduate with a degree in bacteriology. "This means a lot to us …. We were lucky to be asked to do the things they asked us to do."
"The University has been such a big part of my life," says Robert Behnke. "I gained so much. I like to give back to where we came from."
Sally Behnke traces the roots of the couple's UW service back to about 1950 when, as advisers to their respective sorority and fraternity, they grew intrigued with what was happening on campus.
Sally Behnke is a member of the advisory board for the Virginia Merrill Bloedel Hearing Research Center, a member of the School of Medicine Visiting Committee, former chairman of The President's Club, former national chairman of the Annual Giving Campaign, a former member of the Development Fund Board and a former trustee of the Alumni Association.
Robert Behnke is a lifetime member of The President's Club, a trustee of the Henry Gallery Association, a member and former president of the Tyee Board of Advisors and a member and former vice chairman of the KCTS Association Board. He is a former president of the UWAA Board of Trustees. In 1970 he became the first recipient of the Alumni Association's Distin­guished Service Award. A 1943 graduate in economics, Robert Behnke received the Department of Economics Distinguished Alumnus Award in 1986.
Robert Behnke is retired vice chairman of the Skinner Corp. and Sally Behnke is chairman of the Skinner Foundation.
UW Alumni Association Distinguished Service Award
Tracy King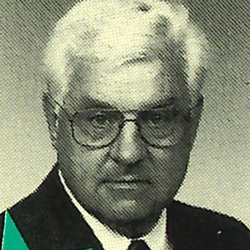 Former UW Alumni Director Tracy King received the University of Washington Alumni Association Distinguished Service Award for 1990. King retired March 31 after almost 11 years at the helm of the UWAA.
"In the process he became the highly respected 'dean' of alumni directors in the United States," says UWAA President Robert Duggan.
Excellence in Teaching Award
Denise Cooney & Janet McDaniel
Music Teaching Assistant Denise Cooney and Education Teaching Assistant Janet McDaniel are winners of the 1990 Excellence in Teaching Award, given to the top TAs on campus. Cooney developed a survey course on the opera and convinced the music department to add sections to its basic music appreciation class. "Denise knows her stuff and cares about her students. She is the best TA I've ever had at the UW," reports one student.
McDaniel taught social studies in junior and senior high school before returning to college. She is part "of a teaching team at the Puget Sound Professional Development Center, which links the UW with local schools. "Nearly all of the methods that she passed on to me as a student I use in my classroom as a teacher," notes one former education major.