It's always special when the Huskies take on Stanford in any sport. But the Oct. 6 Pac-12 men's soccer game between the two conference rivals at Husky Soccer Stadium will be the most special game of the season – it's DP Night, in honor of former UW soccer star Daniel Ryan Phelps, '10, who tragically died in 2015 of sudden cardiac arrest.
This is the second DP Night the Huskies have put on and the timing is spot on, for October is Sudden Cardiac Awareness Month. "UW Soccer dedicates a game to Daniel and builds awareness for sudden cardiac arrest," explains Phelps' best friend, Adam Lang, '10, a former teammate of Phelps, who was 27 when he died on Dec. 13, 2015.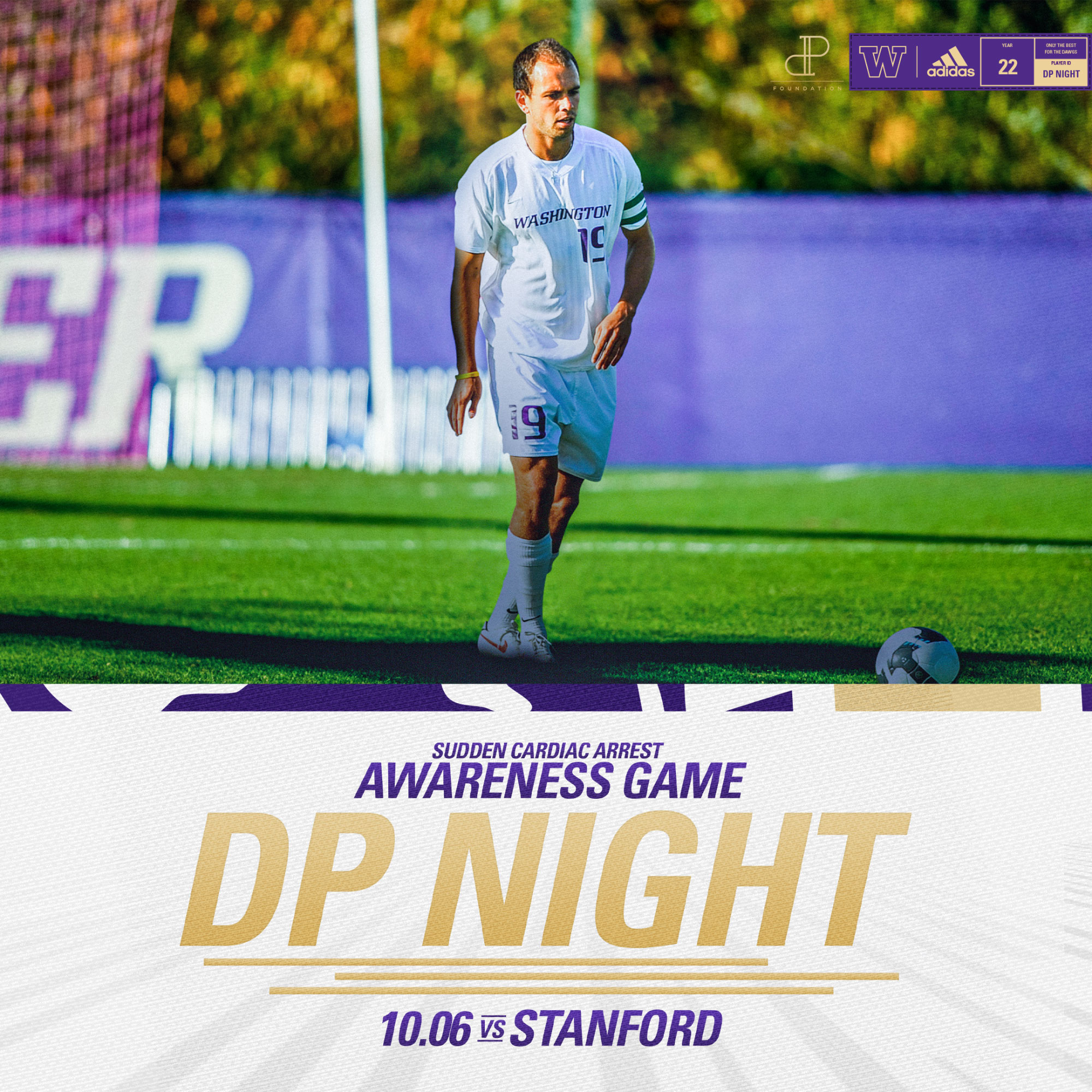 Phelps, a member of a military family, moved nine times in his first 19 years of life. He made friends quickly and became a positive influence wherever he went. He graduated from Leilehua High School in Hawaii after being named athlete of the year and accepting a scholarship to play Division I soccer at the University of Washington.
Lang recently created the DP Foundation to formalize efforts to honor Phelps and raise awareness and money for sudden cardiac arrest. The foundation works with the Nick of Time Foundation (named in honor of Nicholas Varrenti, a teenager who died of sudden cardiac arrest in 2004) to provide free EKG Youth Heart Screenings in Western Washington.
On Oct. 6, all Husky players will wear number 19 warmup tops – Phelps' number – and DP Night signs will be up throughout the stadium. Dr. John Drezner of UW Medicine will also present a video on the big screen to explain more about DP Night and sudden cardiac arrest. The UW also agreed to put a DP Foundation patch on the No. 19 game jersey – and this is not just for this game but for many seasons to come. Phelps' memory will live on through the jersey he once wore.
Another highlight for Oct. 6: Jordan Morris and Cristian Roldan, two stars of the Seattle Sounders, will be in attendance to show their support and sign autographs.
"Friendships were so important to Daniel," says Lang. He was considered the social glue that bonded the men's soccer team and other friends, and his sudden death left a big hole in many people's hearts.
"We shared so many special memories on and off the field," Lang recalls, "and I feel so grateful for the joy and laughter he added to my life."
Lang's efforts to bring memories of that joy and laughter will be on display on Oct. 6. In addition, the Medic One Foundation will be on hand before, at halftime of, and after the game to teach CPR and how to use a defibrillator.
Be sure to check out DPNight.org for more details. Game tickets are available at gohuskies.com.