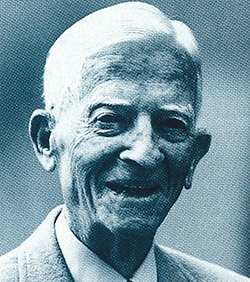 Roscoe "Torchy" Torrance, one of the UW's most prominent sports boosters and confidant of generations of Husky coaches and ath­letes, died Nov. 23, 1990, at the age of 91. "There's no question there'll never be another Husky like Torchy Torrance," says Jack Ehrig, '52, president of the Torchy Torrance Foundation. "He was one of the guys who built the athletic program at the UW, since his undergraduate days."
Torrance was born Sept. 2, 1899, at Diamond, Whitman County. He acquired his nickname while a student at Lewis and Clark High School in Spokane when, after he had led a cheer during a pep assembly, a fellow student yelled "Come on Torchy, lead another yell."
Well known throughout Eastern Washington as a top high school baseball player, Torrance was invited to attend Washington State College (now WSU) and offered a job "picking up towels," according to his 1988 autobiography, Torchy! Instead, Torrance headed west to the UW where he joined Sigma Alpha Epsilon fraternity and earned his room and board peeling potatoes and washing dishes. He received a degree in business administration in 1923.
Too small for football, Torrance played baseball for four years and was a member of the UW squad that toured Japan in 1921. "The ocean voyage was an experience in itself," Torrance said in his book. "We traveled on the Fushima Maru, and one of the things I remember was batting practice on deck using a big net. Coach (Leonard "Stub") Allison figured if we could hit the ball with the ship bobbing up and down, we ought to do OK in Japan." The team won 23 of its 35 games.
As a member of the ASUW Board of Control, Torrance helped raise money for the construction of the new Husky Stadium, which opened in 1920. After graduation, he served as freshman baseball coach and assistant graduate manager on the UW's athletic staff. His duties included accompanying Football Coach Enoch Bagshaw on recruiting trips to Eastern Washington. (Bagshaw had not learned to drive at the time.) "The recruiting rivalry with Washington State was intense," he said. "We came close to getting into fist fights at some of the places." Torrance continued as a leader in Husky recruiting for decades after leaving the UW, helping bring to campus football standouts such as running back Hugh McElhenny and quarterback Don Heinrich.
Torrance's autobiography quotes McElhenny: "I used to look forward to seeing Torchy come into the locker room after a game. We'd shake hands and when he'd let go there'd be $25 for every touchdown I made. For some reason or other he didn't show up after the Washington State game when I scored five times."
Torrance was noted for his almost encyclopedic memory of Husky athletics. "I've never been around a person who was so knowledgeable, who had such an amazing memory about players and past games from way back," Coach Don James told a Seattle reporter at the time of Torrance's death. "He was a great, great friend of the University of Washington and the athletic department. We're going to miss him."
Torchy considered '20s­era running back George Wilson the greatest individual all-around player in Washington football history. But only days before his death he told Coach James that he thought the 1990 team, which went on to win the 1991 Rose Bowl, the best team in UW history.
"The guy just lived for this football team," recalls Ehrig about the last weeks of Torrance's life. "He could hardly walk. But he made it to every home game this year."
Over the decades, Torrance became known as "Mr. Everything" in UW and Pacific Northwest athletics. He was involved in the construction of Longacres race track in 1933 and was executive vice president of the Seattle Rainiers minor-league baseball team from 1938 until 1942, when he volunteered for World War II duty with the Marine Corps. He was also active with the Amateur Athletic Union and the U.S. Olympic Committee.
Torrance engaged in several business ventures including advertising, printing and concessions. His community service is almost legendary. He was a founder of the Washington Athletic Club and Northwest Hospital. As president of Greater Seattle Inc. from 1952 to 1955, he helped organize the annual Seattle Seafair celebration. Long active with the March of Dimes, he was serving as state chairman of that campaign in 1952 when his daughter, Shirley, was stricken with polio. He also served for many years on the board of directors of the Salvation Army.
Torrance received the UW Alumni Association's Distinguished Service Award in 1972 and the Charles E. Sullivan Award from the Puget Sound Sportswriters and Sportscasters in 1973. He received the First Citizen Award from the Seattle-King County Association of Realtors in 1989. The proceeds from Torrance's book—more than $100,000 to date—are donated toward the support of the UW baseball team. Donations in his memory can be made to the Salvation Army or the Torrance Foundation, PO Box 720, Seattle, WA 98111-0720.