UW to build house of knowledge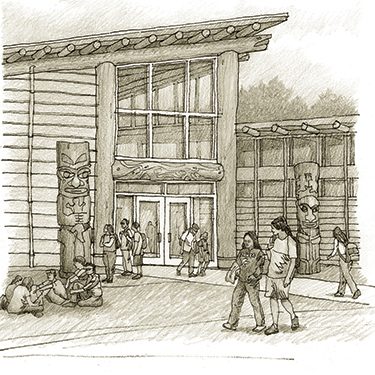 The UW Seattle campus bears many Native American street names, but no place that really signifies the Native presence. That will change in 2011, when construction is slated to begin on the House of Knowledge.
Situated on what is now a parking lot between McMahon Hall and the Quad, the House of Knowledge will be a longhouse-style building reminiscent of the traditional dwelling and ceremonial structure of the Northwest coastal Native tribes. It will serve as a gathering place offering hospitality and warmth to Native American students and people of all cultures, and as a venue for meetings and events.
"It will create a place for students just to be who they are on campus," says Anthony Pastores, '08, a member of the Upper Skagit Tribe. "It will take us out of the minority context and put us in a space that's more comfortable."
The House of Knowledge will be about 19,000 square feet, and will achieve a LEED standard in "green" building. (LEED is Leadership in Energy and Environmental Design; it's a green building system that promotes sustainable building practices.) Respecting the land on which it is built is consistent with Native American values.
"I really see this as a positive move by the UW in creating a strong Native American presence on campus," says Charlotte Coté, assistant professor of American Indian Studies and chairperson of the House of Knowledge Planning Advisory Committee. Coté, who comes from the Nuu-chah-nulth Nation on the west coast of Vancouver Island, also cites the new bachelor of arts major in American Indian Studies that the UW put in place in the fall.