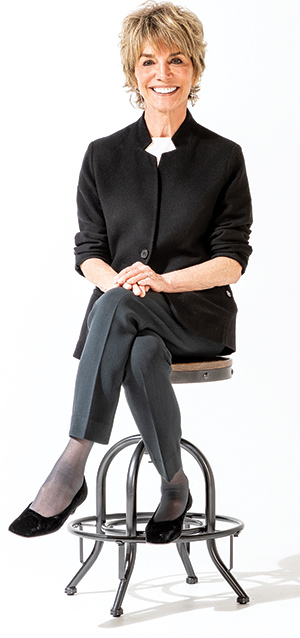 Connie Kravas, the UW's chief advancement officer, loves Monday mornings in the spring. "The carillon on top of Kane Hall is playing," she says. "And you can look out over Drumheller Fountain and see blooming trees and all those students walking fast-paced to class. I feel almost like I did the very first day I was a grad student—I wanted to be in higher education every day of my life."
Over the past 40 years, she has managed to do just that. Kravas, who retires from the UW this summer, started her career at a time when fundraising for public universities was yet to be defined. She has led the way in developing the field and is today one of the most vocal and successful advocates for higher education for all of Washington.
"I had great anxiety about asking people to make a gift in the early days," Kravas says. "But I soon realized that the act of giving is often an act of joy. It is about something they are experiencing—excitement at the moment, and continued deeply felt emotions when they meet the students and see the work they are supporting."
Current and former employees describe Kravas as genuine, inspiring and fearless. One of her first fearless acts when she arrived at the UW in 2001 was to ask Bill Gates Sr., '49, '50, to chair a fundraising campaign—after he had already declined. She prevailed, and with Gates at the helm, ran a campaign that raised $2.68 billion from nearly 300,000 donors and increased affinity for the University throughout the region. Now she is leaving the UW in the final phase of its most recent campaign—a drive to raise $5 billion by 2020. The effort has surpassed its goal, and is continuing to bring in more support for future generations of students, faculty, doctors, patients and others.
Kravas also championed the integration of fundraising, alumni relations and marketing and communication to better serve the University.
"If her contributions to advancing access and excellence for students were limited to the UW, she would still have an amazing career," says President Ana Mari Cauce, "But her impact extends far beyond our university."
Kravas has also mentored and guided the careers of more than 50 former employees who now lead fundraising at colleges and universities around the country. For her leadership, her efforts to bring more women and people of color into the field, and for sharing her knowledge on a national level, the Council for Advancement and Support of Education will honor her with the E. Burr Gibson Lifetime Achievement Award in July.
And her UW family is not letting her get away so easily. Alumni and donors worked together this spring to surprise her and her husband, Gus, with an endowed scholarship, which has so far garnered $3.5 million.
"We believe that higher education has the power to change lives, communities and the world," Kravas says. "For both Gus and me, it has been a joyful privilege to devote our entire careers to work that we love."