UW's first 'common book' will have everyone on the same page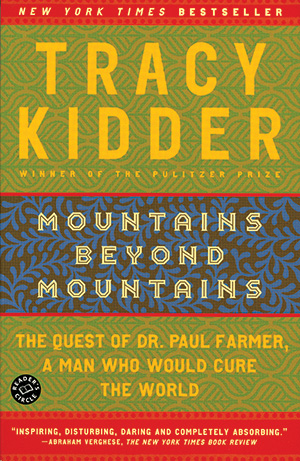 One of the biggest problems Tracy Kidder faced when writing "Mountains Beyond Mountains" was what his editor called "the problem of goodness." Kidder wanted to tell the true story of Paul Farmer, a doctor who devotes his every waking minute to fighting infectious diseases in the poorest parts of the world. (And Farmer has lots of waking minutes: "I can't sleep," he once confessed to Kidder. "There's always somebody not getting treatment.") But it's hard to write about superhumanly selfless people without making readers feel bad about themselves.
So Kidder, the Pulitzer Prize-winning author of five other nonfiction books, decided to try a radical experiment: for the first time, he would allow himself to be a character in his own book. "This was so that the reader would have a proxy, an everyman a lot less virtuous than Paul Farmer," Kidder says in an e-mail interview. The result was a spectacular success—a riveting book that earned rave reviews, made the best­-seller lists and boosted support for Farmer's nonprofit organization, Partners In Health.
More recently, "Mountains Beyond Mountains" was named the UW's first-ever "common book." Every member of the incoming freshman class will be reading the book this summer, and thinking, talking and writing about it this fall.
And that's just one part of a massive UW effort to put the book on every coffee table and night stand in the community. Through July, the University Book Store is selling "Mountains Beyond Mountains" at a 35 percent discount. The College of Arts & Sciences plans to inaugurate a new book club with a special discussion of "Mountains Beyond Mountains" in the fall. And the UWM is helping coordinate special student visits to alumni book clubs.
Honor students will be available to attend gatherings, lead conversations about the extraordinary work of both Paul Farmer and Tracy Kidder, and talk about ways the common book is being used as a teaching and learning tool at the UW.