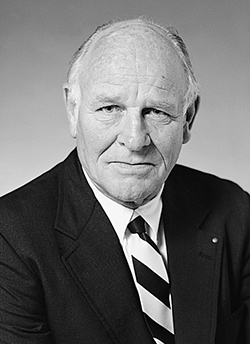 Philanthropist, business visionary and former UW regent W. Hunter Simpson, '49, died Jan. 21 from heart failure. He was 79.
A native of Tacoma, Simpson first attended the UW during World War II as a Marine under the V-12 Program. After the war, he returned to the University to study business and was a member of the Phi Delta Theta fraternity. He graduated in 1949 and began a 17-year career with IBM, which was interrupted when he was called back into service as a Marine captain during the Korean War.
His most daring business move was leaving IBM in 1966 for a tiny manufacturer of a new, portable medical device that would revolutionize emergency medicine and save hundreds of thousands of lives—the first battery-powered heart defibrillator/monitor. From a nearly bankrupt operation of three people, Simpson guided his company—Physio-Control—into a world leader in defibrillators and other heart-monitoring equipment. Eli Lilly bought the company in 1980 for $149 million, but kept Simpson at the helm. It was named one of the 100 best companies to work for in America in 1985, the same year he retired.
Simpson was a tireless advocate for making Seattle one of the world's leading centers of biotechnology. He saw the University of Washington as a crown jewel in this effort, and supported it in many ways, including service as a UW regent from 1981-93 and president of the UW Alumni Association in 1980-81.
Simpson was "one of the greatest regents in the history of the University," says President Emeritus William P. Gerberding. He credited Simpson with being a leader in the establishment of campuses in Bothell and Tacoma and for being a founding director of the Washington Research Foundation.
Simpson saw a need for private support of the UW long before others did and was instrumental in the UW's first major fundraising effort, the Campaign for Washington. For a half-century of service, Simpson and his wife, Dottie, were honored in 2002 with the first Gates Volunteer Service Award, given by the UW to a volunteer whose involvement has most advanced the University and heightened public awareness of its achievements.
"He had a lot of passion for many causes, particularly for the University of Washington," says one of his daughters, Christine Brent. Simpson also served on the Mercer Island City Council and was a board member for such local non-profits as ACT Theatre, KCTS, and Overlake and Children's hospitals.
During his tenure as alumni association president, he interjected new initiatives into what had been a modest organization, including the launch of a political advocacy effort and the conversion of the Washington Alumnus from a newsprint tabloid to a glossy magazine. "We all owe the University something to replenish and sustain the quality it has given us," he wrote in the first redesigned edition. The editors of that publication—now called Columns—named him one of the 100 most interesting and influential UW alumni of the 20th century.
He is survived by Dorothy "Dottie" Lewis Simpson, his wife of 54 years; their children, Brooks, Anne and Christine; and six grandchildren. Memorials may be sent to the Medic One Foundation, the R. Hunter Simpson Foundation at the Seattle Foundation, or the University of Washington Foundation.