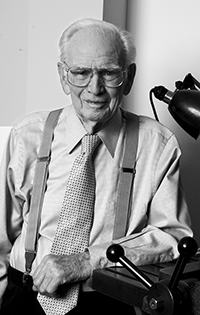 Often referred to as UW's "father of bioengineering," Wayne Quinton earned his master's degree in mechanical engineering while working in the UW medical school instrument shop. A kind of Renaissance man, Quinton drew upon his knowledge in electronics, physics and materials to address unmet needs, especially in the field of medicine.
"Never let lack of knowledge and resources keep you from doing something that needs to be done," he once said. The ultimate tinkerer who would work into the wee hours in his garage until he found a solution, Quinton, '59, was a classic entrepreneur who quit a secure job to found Quinton Instruments.
Quinton was born in Rigby, Idaho, a small farming community where, as a teenager, he taught himself to fix broken equipment in his mother's dry cleaning shop. During WWII he worked as a Boeing draftsman on the B-29 Bomber team.
Most of all, Quinton was a true pioneer, working closely with physicians to design and fabricate solutions for patient diagnosis and treatment. Quinton's inventions included the lightweight cardiac treadmill, the oxygenator used in the first open-heart surgery in the Pacific Northwest, and the cannula system that enabled long-term kidney dialysis. As for the treadmill, he didn't just use it to save lives, he also used his own to train for long-distance running; he finished 19 marathons.
In 2009, Quinton received the Alumnus Summa Laude Dignatus, the UW's lifetime alumni achievement award and the highest honor bestowed on a graduate. He was honored for his "singular role in marrying the fields of engineering and medicine." Quinton died Jan. 22 at the age of 94.