Weatherman Steve Pool celebrates 40 years at KOMO-TV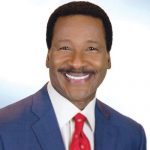 Raise your umbrella to the sky—KOMO meteorologist Steve Pool is celebrating his 40th anniversary at the Seattle TV station. The beloved weatherman has made regular appearances on "Good Morning America" and hosted the syndicated weekend show "Front Runners" (watch him interview a 6-year-old Elvis impersonator named Bruno Mars).
Pool joined KOMO as a production assistant during his senior year at UW and scored a full-time gig after graduating in 1977. He doesn't appear to have aged much since then. "Just for the record, I'm not doing anything special," he said on-air recently, insisting he doesn't have a secret skin-care routine. "As my wife will tell you, half the time I'm washing my face with dishwashing soap." We don't recommend trying that, but if you want to look and feel younger, start with a Steve Pool smile.