Whitney Harris, 1912-2010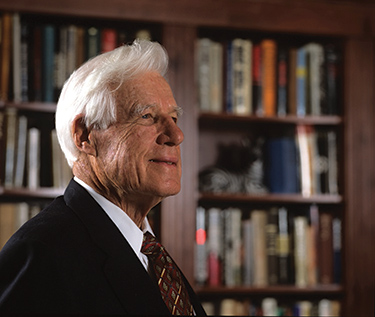 Whitney R. Harris, '33, the last of the prosecutors who brought high-ranking Nazi war criminals to justice at the Nuremberg trials, died April 21 at his home in St. Louis. He was 97.
Harris was part of a team led by U.S. Supreme Court Justice Robert H. Jackson that began prosecuting war criminals in 1945 in the Nuremberg International Military Tribunal, as the trials were officially known.
Harris helped interrogate Rudolf Hoess, who was the commandant at the Auschwitz concentration camp. And his presentation of evidence against former Gestapo head Ernst Kaltenbrunner was so strong his conviction was not appealed.
The son of a car dealer and a Seattle native, Harris graduated from the University of Washington with a bachelor's degree in sociology in 1933. He earned his law degree from the University of California, Berkeley. He was in the Navy when he was recruited to join the war crimes prosecution effort.
In 1988, nearly a half century after the Nuremberg trials, Harris joined two colleagues to shape the International Criminal Court, which sits at The Hague in the Netherlands. He also taught law at Southern Methodist University and wrote a book, Tyranny on Trial, an account of the Nuremberg trials.