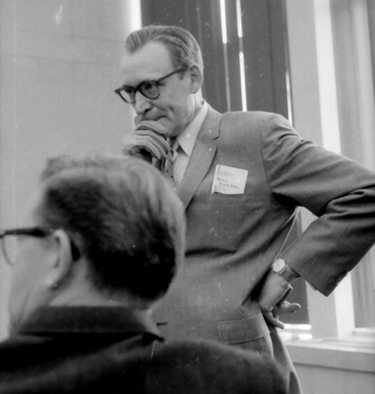 William Shadel, retired UW communications professor and radio and television broadcasting veteran, died Jan. 29 in Renton. He was 96. The multi-talented Shadel worked in nearly every news medium, from print to radio to television. His colleagues were journalistic luminaries including Edward R. Murrow, Walter Cronkite, Eric Sevareid and Howard K. Smith.
He began as a musician in silent-movie theaters and live radio, and his first journalism job was editing magazines published by the National Rifle Association. It was during World War II that his reporting career took him abroad and into the spotlight: He and Murrow were the first reporters in Germany's Buchenwald concentration camp; he was one of only 28 reporters to cover the Allied invasion of Normandy firsthand; and he covered the Battle of the Bulge. This earned him a "Witness to the Truth Award" from the Simon Wiesenthal Center in 1990.
After the war, he worked at WTOP-TV in Washington, D.C., for Cronkite. "He was a very bright reporter and a darn good writer," Cronkite told the Seattle Times in January. "He'd hunt stories that I thought were quite remarkable, and we were just a great team."
Later, Shadel helped launch the CBS public affairs program "Face the Nation" and became anchor of the "ABC Evening News," which led to him moderating the third presidential debate between Richard Nixon and John F. Kennedy in 1960.
In 1963, he retired from reporting the news and brought his experience to the UW Department of Communication, teaching classes and retiring in 1975.
He is survived by his wife of more than 56 years, Julie, three sons, Gerald, David and Douglas, and two grandchildren, Nicholas and Emily.