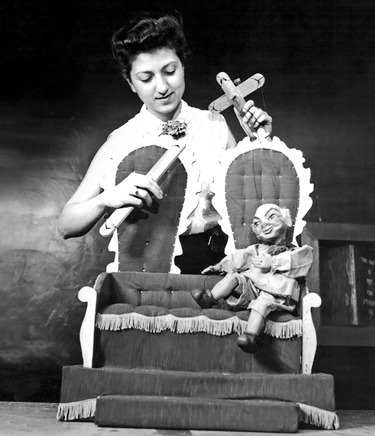 Most people are lucky if they excel at one career in life, but for Aurora Valentinetti, '43, four was the magic number—and she pursued each simultaneously. Born in 1921, the daughter of Italian immigrants, Valentinetti, who died July 20, 2022, was well known as a professional singer, puppeteer, community theater director, and professor of speech, children's theater and puppetry at the University of Washington. With a teaching career that spanned 50 years, ending in 1992, Valentinetti touched many lives, introducing students and the community to the art of puppetry.
"Aurora was a small woman, but she was full of energy, a tireless worker and she had a larger personality," says Stanley Hess, '64, curator of the Aurora Valentinetti Puppet Museum in Bremerton. Hess took classes from Valentinetti at UW and opened the museum—which houses more than 2,000 puppets and related items—in 1999.
Valentinetti's entry into puppetry began in the 1940s while she attended UW. "Many of the male students and instructors were being drafted [to serve in World War II]," Hess recalls, "so she stepped in and helped in many roles, and that was the beginning of her teaching career."
As an undergrad, Valentinetti toured with the UW Puppeteers troupe. Following graduation, as a teaching fellow, she assumed responsibility for the tours and the teaching of the puppetry classes. Throughout her career, she performed locally at the Showboat Theatre, St. Mark's Cathedral and Bumbershoot. Valentinetti even had a show, "Puppet Playhouse," on KCTS-TV. In 2018, the UW awarded her the Distinguished Teaching Legacy Award.
Although puppetry might seem like an antiquated art form, Hess argues that it—and the lessons Valentinetti offered through her work—are relevant today. "Puppetry in general—and this is something I know Aurora was very conscious of—is very inclusive," he says. "It is an important part of storytelling, and the work continues through her students and their students."