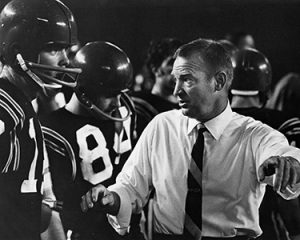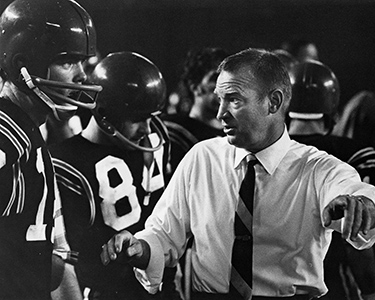 The online comment said it best: "It's about damn time!"
Don Coryell, '50, '51, the Seattle native who is considered the father of the modern passing game, a member of the Husky Hall of Fame and College Football Hall of Fame, finally is getting to round out his resume: He is a member of the Class of 2023 going into the Pro Football Hall of Fame.
The nine new members of the hall of fame were announced on Feb. 9, and for Coryell, it's an honor that is long overdue. He is part of the Coach/Contributor category. It's a shame he never lived to see it. He died July 1, 2010 at the age of 85 in La Mesa, California, not far from where he experienced magnificent success at San Diego State with his whoa-where-did-that-come-from "Air Coryell" passing attack. He moved onto the NFL, where he repeated his success with the St. Louis Cardinals and San Diego Chargers, making stars out of his quarterbacks and receivers for throwing the ball around like crazy.
But Coryell's smarts went way beyond his penchant for a passing game. He is credited with pioneering the use of numerous innovations on offense that opened the pro game (and before that, the college game) considerably and made the sport really exciting.
Coryell is credited with pioneering the use of:
The I-formation
Two tight ends in a one-back offense
Multipurpose running backs
Up to four receivers at a time
Throwing the ball much more often than was the conventional wisdom at the time
You want success? Coryell was the first coach to win 100 games in college and in the pros. He was also one of football's premier mentors, as his coaching tree includes Joe Gibbs and John Madden (Super Bowl victors both). Coryell's teams also led the NFL in passing seven times in nine seasons.
You want impact? Well, Coryell revived the Cardinals (where he coached from 1973-1977) and the Chargers (1978-1986), leading both teams to the playoffs after extended postseason droughts. Both moribund teams won three division titles apiece, and he was honored as the NFL coach of the year twice.
You want personal impact? Coryell was deeply appreciated for how he treated his players. As a mentor and human being, he understood that treating his players well was the right thing to do – and oh yeah, it led to better performances on the field. And those performances led to Coryell finally receiving the long-awaited honor that pays tribute to how he changed the game.