Bonnie J. Dunbar, '71, '76. Inducted in 2013
Richard F. Gordon Jr., '51. Inducted in 1993
Janet L. Kavandi, '90. Inducted in 2019
George Nelson, '74, '78. Inducted in 2009
Housed at the Kennedy Space Center in Florida, the U.S. Astronaut Hall of Fame was created by the Mercury Seven, NASA's first astronauts. Inductees are selected by a special committee of current Hall of Fame astronauts, former NASA officials, historians and journalists picked by the Astronaut Scholarship Foundation. To be eligible, astronauts must be U.S. citizens who orbited the Earth at least once, and 17 years must have passed since their first trip to space. The first class of inductees was welcomed in 1990.
As you can imagine, our four high-flying Huskies have had quite an impact in space exploration and advancing science. Here's a little more on each of our hall of fame members.
UW Degrees: B.S., ceramic engineering, 1971; M.S., ceramic engineering, 1976
A native of Sunnyside in Eastern Washington, Dunbar went into space aboard the Space Shuttle five times and logged 1,208 hours in the heavens. Her achievements are legendary.
In her first spaceflight, STS-61A, she was responsible for operating the German Spacelab and performing more than 75 scientific experiments. As a mission specialist on the shuttle Columbia STS-32, she helped deploy a satellite and retrieve the 21,400-pound Long Duration Exposure Facility using the remote manipulator system. She helped complete the first U.S. Microgravity Laboratory flight, which laid the groundwork for Space Station Freedom science operations. She was a member of the STS-71, the first space shuttle to dock with the Russian Space Station Mir.
Her final mission in 1998 was the eighth Shuttle-Mir docking mission. Dunbar was responsible for all payload activities and conducted 23 technology and science experiments.
After her flying career, she served as assistant director of the Johnson Space Center and deputy associate director for biological sciences and applications. She retired from NASA in 2005.
UW Degree: B.S., chemistry, 1951
A native of Seattle, Gordon walked in space on Gemini 11 and orbited the moon on Apollo 12. He is the only Husky to go to the moon. A naval aviator by training, he served as a Navy flight instructor who won the Bendix Trophy Race from Los Angeles to New York in May 1961, setting a speed record of 869.74 miles per hour and a transcontinental record of 2 hours, 47 minutes.
He was selected as an astronaut by NASA in 1963 and made his first space flight as pilot of Gemini 11's three-day mission in 1966. During that mission, he left the spacecraft for a planned two-hour spacewalk but had to cut it short because of difficulty maintaining his position in weightlessness without hand holds or foot restraints. That experience was vital in providing lessons for future spacewalks. In 1969, Gordon was part of the three-man crew on the Apollo 12 moon mission. While Gordon circled 60 miles above the moon, astronauts Pete Conrad and Alan Bean traveled on the Lunar Module to land in the Ocean of Storms on the moon.
In 1971, Gordon became chief of advanced programs for the Astronaut Office and worked on the design and testing of the Space Shuttle. He retired from NASA and the Navy in 1972. He died at age 88 in 2017.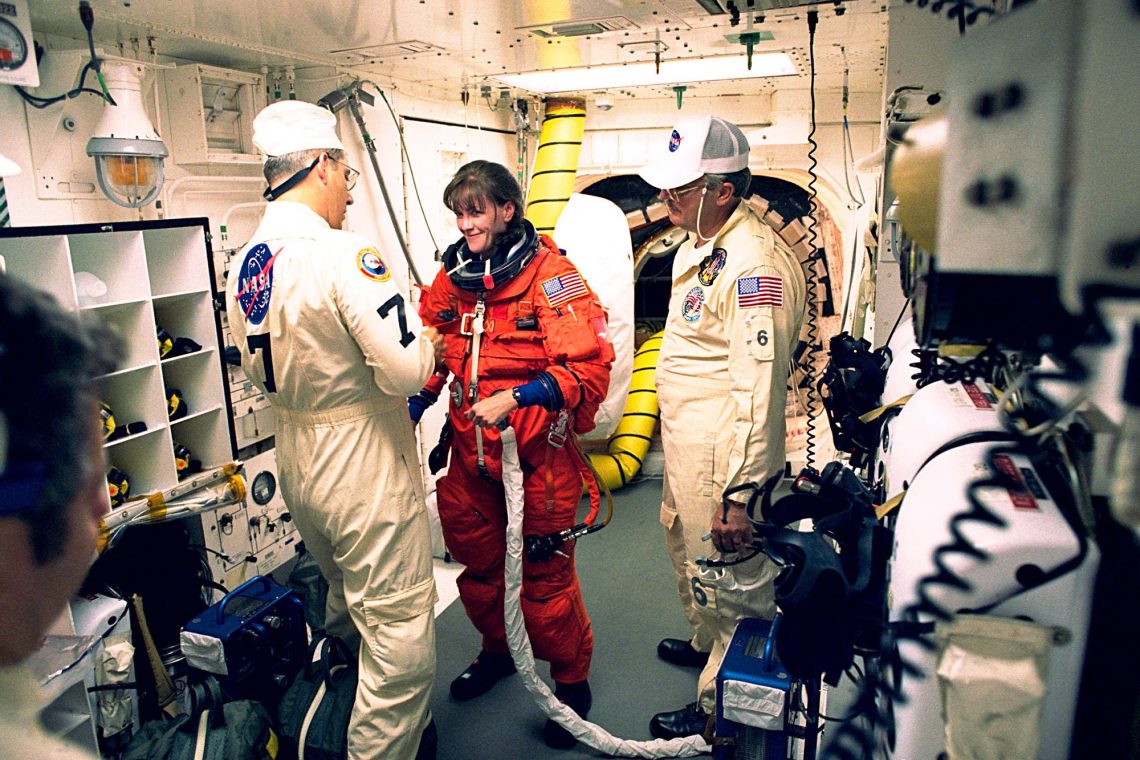 UW Degree: Ph.D., analytical chemistry, 1990
A veteran of three space missions, Kavandi serves as the director of NASA's John H. Glenn Research Center in Cleveland, an operation with more than 3,200 civil service and support contractor employees and an annual budget of $625 million. Before heading the Glenn Center, she was director of Flight Crew Operations of the Johnson Space Center in Houston.
Kavandi was selected as a NASA astronaut in December 1994 as a member of the 15th class of U.S. astronauts. She went into space on STS-91 in 1998, STS-99 in 2000 and STS-104 in 2001. She logged more than 33 days in space, traveling more than 13.1 million miles in 535 Earth orbits.
Being inducted into the astronaut hall of fame "is a huge honor," she told Columns magazine in 2019. "I had the best job in the world flying into space. Nothing compares to that."
George "Pinky" Nelson
UW Degrees: M.S., Astronomy, 1974; Ph.D., Astronomy, 1978
A native of Charles City, Iowa, Nelson was selected as an astronaut candidate in January 1978, the same year he earned his doctorate from the UW. He served as the Astronaut Office representative in the Space Shuttle's space suit development effort. He served as the photographer in the first shuttle mission in the prime chase plane and was a support crewman and CAPCOM for two other early shuttle flights.
He made three trips into space: STS-41C in 1984, STS-61C in 1986 and STS-26 in 1988. He logged a total of 411 hours in space, including 10 hours of spacewalk time. His 1986 mission aboard the Columbia was just a little more than a week before the Challenger tragedy, and the STS-26 mission in 1988 was the first mission flown after Challenger.
After his career with NASA, he joined the UW faculty and later was a professor and administrator at Western Washington University.