Today is an equally exciting day, for we are unveiling a redesigned magazine, complete with a new name (University of Washington Magazine), new look and new physical appearance (a larger size, a spine and new paper). But some things are not changing; the magazine will continue to showcase the eye-opening stories about this incredible institution and its alumni community as well as the impact they have on the world.
I have had the good fortune to be a part of this magazine since 1993, its fourth year of existence as Columns. In those 26 years, I helped produce editions and stories that were fascinating, poignant, touching, and funny. As we welcome our future, we take a moment to look back.
My favorite magazine covers
From left to right:
100 Alumni of the Century, December 1999 (more about this at the end of the article)
Memories and Reflections, December 2001 (about the back-to-back tragedies of 9/11 and 9/12)
Julia Lin, December 2008 (Maya Lin's mother escapes China in 1949 with $20 sewn into the sleeve of her dress)
Beijing Olympics, March 2009 (about the need for art in our culture)
Letters Home, December 2009 (about Lt. Robert Leisy, who received the Medal of Honor for his bravery during Vietnam)
Art Wolfe, March 2012 (incredible images of Union Bay Natural Area)
Husky Stadium Renewal, September 2013
Ring Leaders, March 2015 (about the UW Boxing Club)
Pain Killers, December 2017 (about the opiod epidemic)
OMA&D's 50th Anniversary, March 2018
Myles Gaskin, December 2018
Greg Olson, March 2019 (about the SAM employee and film noir fan)
My favorite issue
March 2014, "Epic Journeys: Everest, Vietnam, Salonica, Home. Four unlikely places. Four paths to hope."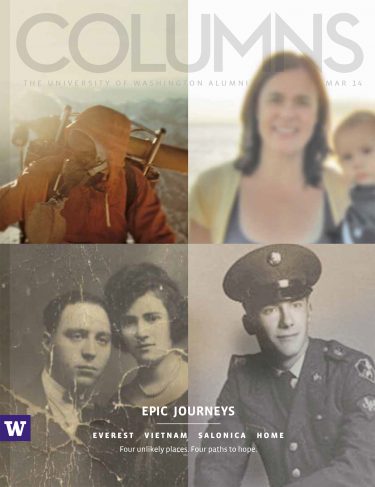 In my view, this was the best collection of feature stories we ever had in one issue: Professor Devin Naar's quest to revive a language on the verge of extinction; the legendary mountain climbers who have UW connections; Social Work Professor Jennifer Stuber's heartbreaking drive to bring suicide prevention to the top of mind of health-care providers everywhere – based on tragic personal experience; and one alum's return to Vietnam after 40 years to help search for the remains of two comrades who were killed in action – in a bunker he designed.
My favorite stories
My funniest memory
September 2013 issue. The renovation of Husky Stadium was our cover story. For our Character feature, I decided to do something different by publishing an interview with Dubs about the new stadium and his role at home football games. I arranged for a very good friend & stand-up comedian, Karla Tofte, to write the text from Dubs' point of view (it is hilarious).
I then arranged a photo shoot with Dubs to happen in a quiet corner inside Hec Ed. Photographer Ron Wurzer set up everything and tested the flash, he always does. To our amazement, that spooked Dubs and he would not sit for us. I couldn't believe it. Here was a dog who was used to being in a stadium of 70,000 people screaming their heads off and hearing cannons go off, but a camera flash unnerved him. I ended up needing to hire a pet portrait specialist (I never heard of such a thing). What a smart thing that was; the studio had lights buried in the walls, and the photographer walked around talking to Dubs while carrying handfuls of peanut butter. It did the trick. Whew.
My most stressful moments
December 2001 issue. This issue was well underway when 9/11 happened. Editor Tom Griffin and I had to tear up the magazine to plan coverage of this incredible tragedy. But the next morning, more bad news hit us flush in the face: we learned of a plane crash in Mexico that killed 16 alumni and Husky football fans. In addition to producing some 9/11 stories and photos, I had the assignment of covering the Mexico tragedy. That required me to visit and speak with all of the families and survivors of those killed in Mexico. I never made it a day without shedding tears.
September 2000 issue. In the span of a couple of two months in the summer of 2000, two shootings on and near the UW campus stunned the community. A pathology resident who was distraught at being terminated, Jian Chen, killed his mentor, Professor Rodger Haggitt, in the UW health sciences complex and then turned the gun on himself. A few weeks before that, a UW freshman, James Hunter Sanderson, apparently high on LSD, jumped on the hood of a pizza delivery driver's car and was shot and killed. Delving into such a traumatic topic that was a big topic of conversation was a tremendous challenge—especially when I spoke with James' father. As a dad myself, I could never imagine what he was going through.
Building the big lists
Over the years, we have produced three issues devoted to lists, which readers (like me) absolutely love. The first was "100 Alumni of the Century" in December 1999; then came December 2002's "Lasting Legacies: 101 UW Achievements," and in June 2008, the "Wondrous One Hundred," which honored 100 living alumni. They made for dazzling reading. Still do.
Now, putting these issues together was a daunting task, as you can imagine. To do them right, we drafted committees of experts on and off campus to offer names from every imaginable field, and then to debate who would make the cut. Those were some of the most entertaining and informative discussions I have ever been a part of.
Once that was settled for the "100 Alumni of the Century" issue, I took on the job of photo researcher, meaning it was up to me to track down 100 photos—and this was in the pre-digital days. That meant calling all over the country and the world to borrow prints. My favorite memory from that issue: One alum we honored was the late Chet Huntley, '42, the NBC news anchor who was one of the most famous newsmen of our time. In 1999, nearly three decades after his final broadcast, I called NBC headquarters in New York to request a photo, and the receptionist said, "Who?"
The 2008 "Wondrous One Hundred" was another fun but enormous challenge. I had actually been working as the UW Alumni Association's communications manager when Editor Tom Griffin retired. I was asked to help out in the middle of production and jumped in to find photos, only this time it was a little easier because something called the internet and email were quite helpful.
As I look back on those three issues, I don't think ever said the word "wow" as often as I did then. I had always been impressed with this place, but what I learned completely blew me away. And now, 26 years after I started working at the magazine, that sense of awe and appreciation still sticks with me. When I walk on campus, I am struck with the sense of enormity of the University's positive impact. It will hit me that I could be walking into the same building where a MacArthur Foundation "Genius" award winner works. Or where a Nobel Prize winner came up with the idea that led to a medical breakthrough. Or where 19-year-old students started on their way to become the leaders and builders and innovators who will change the world. For that, I am forever grateful, and I am honored to have been able to play a small role in telling their stories.